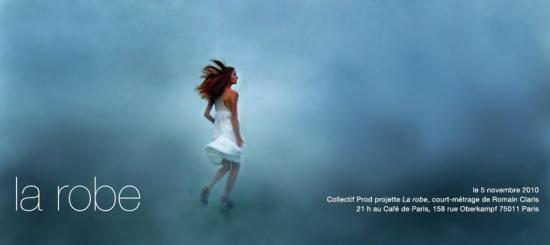 Court metrage realisee par Romain claris , creation de la robe Aurore Doutreleau,
Short movie by Romain claris , dress created by Aurore Doutreleau,
Synopsis
Ce court-métrage met en parallèle la creation d'une robe et la rencontre entre cette robe et une femme.
Une femme marche dans une rue. Des coups de crayon sur le papier courent, se cherchent, s'assemblent, Aurore dessine. La femme s'arrête devant la vitrine d'un magasin. Sur un patron, un tissu se place, est ajusté, piqué, modelé. La main, effleure, palpe, teste, parcourt le tissu d'un vêtement exposé sur un mannequin. Découpe. La grande lame du ciseau avance sur le tissu. Dans la cabine, la peau sensible frémit, s'impatiente et imagine les caresses imminentes du tissu encore inconnu, instant silencieux, précieux. On sent, voit, perçoit, l'amusement, le plaisir, l'émotion procurés par l'essayage. Assemblage du vêtement, finitions. Les matières se rencontrent, épousent les formes et les mouvements du corps...



This composition twins the creation of a dress and the moment when a woman sees this dress for the first time.
A woman is walking in the street. Pencil strokes make their marks on the paper, independently to begin with before coming together, Aurore is drawning. The woman stops in front of a shop window. A pattern is placed on the material, which is adjusted, stitched, modelled. A hand brushes, feels, tests, runs over the material of a garment exhibited on a model. The material is cut using a large pair of scissors. The woman is in the changing room; her sensitive skin quivers impatiently and imagines the material, not yet known, caressing it. The moment is silent, exquisite. We can feel, see, perceive the fun, pleasure and emotion created by the fitting. The garment is sewn together, before the finishing touches are made. The different materials come together, hug the woman's figure and follow her movements.